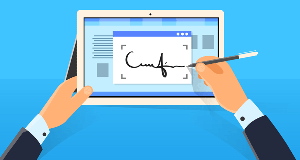 In 2000, Congress passed the "Electronic Signatures in Global and National Commerce Act" (the E-Sign Act), which was subsequently signed into law. Under that Act, (i) any transaction in or affecting interstate or foreign commerce, a signature, contract or other record, would not be denied legal effect, validity or enforceability solely because it was in electronic form, nor (ii) would a contract relating to such a transaction be denied legal effect, validity or enforceability solely because an electronic signature or record was used in it for motions.
However, the E-Sign Act does not limit or change any requirement imposed by a statute, rule or regulation relating to the rights and obligations under such a statute, rule or regulation other than a requirement that contracts or other records be written, signed or in a non-electronic form.
The E-Sign Act, however, does not require any person to agree to use or accept electronic records or electronic signatures, other than federal governmental agencies with respect to a record other than a contract to which it is a party.
The E-Sign Act expressly does not apply to the creation and execution of wills, codicils or testamentary trusts, a state statute, rule or regulation governing adoption, divorce or other family law matters, or except as pertains to Sections 1-107 and 1-206 and Articles 2 and 2A of the Uniform Commercial Code.
States may modify, limit or supersede the foregoing (and other) provisions in limited circumstances in furtherance of the Uniform Electronic Transactions Act recommended for adoption in all states by the National Conference of Commissioners on Uniform State Laws in 1999. Missouri has adopted such a modifying law with regard to securities issued by Missouri entities or offered for sale in Missouri (Section 409.1-101, et seq., R.S. Mo.).
In the case of Princeton Industrial Products, Inc. v. Precision Metals Corp., the issue was presented whether an email, with the usual signature block containing the sender's name, title, company and contact information, constituted a signature sufficient to satisfy a modification to an existing contract (120 F. Supp. 812 3d N.D.IL (2015)). In that case, Princeton Industrial agreed to supply certain machined parts for Precision Metals for use as a component in weapon mounts being manufactured for the United States government. After a number of years into the existing contract, Precision Metals' buying agent sent an email in July 2010 to Princeton Industrial that indicated the requirements for production parts for June through December of that year and showed an increase in the quantity theretofore required. Princeton Industrial supplied the increased quantities, not only for the balance of 2010 but also well into 2011.
Precision Metals paid for the shipments as required under the contract as increased by the July 2010 email into September 2011 but then stopped making any payments. Apparently, Precision Metals came to the realization that it had over-bought the machined parts. Such over-buying had occurred because Precision Metals issued new purchase orders without taking into account its open purchase orders with Princeton Industrial and the July 2010 email.
Once payments stopped and Princeton Industrial brought suit to recover payment, Precision Metals argued that there was no valid modification because there was neither an actual signature nor an authenticated signature on the July 2010 email from Precision Metals to Princeton Industrial that increased the number to be shipped by over 6,800 additional parts.
Precision Metals presented novel arguments as to why the email from its buyer should not be considered an authenticated signature. Those arguments included one that there was no evidence that the signature block on the buyer's email was "overtly typed" by the buyer but only contained standard email block information — name, title, company and contact information. Such standard information, Precision Metals argued, amounted to nothing more than that which was automatically generated by the email program and, thus, could not be deemed authenticated. The court, relying on an earlier U.S. Court of Appeals decision addressing a statute of frauds issued by the Honorable Judge Posner, quickly made short shrift of that argument by holding, as Judge Posner did, that "E-Sign Act or not, 'the sender's name on an email satisfied the signature requirement of the statute of frauds.'"
In another argument rejected by the Princeton Industrial court, Precision Metals posited that their buyer had no intention of authenticating the email that ordered additional units and that the buyer's email signature block was only intended to disclose the individual sending the electronic mail communication and not from someone else. The court found that such reasoning proved the communication was not a forgery and, thus, authenticated the buyer's communication ordering additional units of products.
In the end, the Princeton Industrial court granted summary judgment in favor of the plaintiff and found Precision Metals liable for payment of all of the ordered parts.
Other federal and state courts have also addressed electronic signatures. In a federal district court sitting in Missouri, the court found that an electronic signature or authentication was sufficient to satisfy the federal Fair Credit Reporting Act's requirement "that a person obtain a consumer's authorization in writing before procuring a consumer report." That court rejected such an argument based on the clear provisions of the E-Sign Act (Miller v. Quest Diagnostics, 85 F. Supp. 3d 1058, U.S.D. Ct., W.D. Mo. (2015)).
Courts have also relied upon the E-Sign Act to uphold an agreement required to be signed under both federal and state securities laws by employees of registered securities firms. In the case of Mead v. Moloney Securities, the court upheld an arbitration provision on the strength of an electronically submitted document, even though the document was neither signed nor dated by the defendant employer (274 S.W.3d 537, Mo. Ct. App. (2008)).
Although not binding on courts sitting in Missouri or Illinois, the California Court of Appeals held in the case of Ruiz v. Moss Brothers Auto Group (CA Ct. App., No. E057527 (12/25/2014)) that the defendant employer failed to prove by a preponderance of the evidence that the electronic signature on an arbitration agreement was attributable to, and resulted from, an act of the plaintiff Ruiz and not some other person.
The Ruiz trial court concluded that the defendant employer's evidence that the employer's practice of issuing employee usernames and passwords was insufficient by itself. The California Court of Appeals elaborated on that finding by noting the "critical gap" between the defendant's assertion that all employees are issued a username and password to log in to sign the arbitration agreement and the sought-after conclusion that Ruiz had signed, or authenticated, the agreement. That missing link was an explanation by the defendant employer as to how the signature came to have been placed on the agreement and that only Ruiz could have completed that act.
Conclusion
The use of electronic signatures is ever present — whether using a credit card at a grocery store, buying auto insurance online or applying for credit online. Since the advent of the E-Sign Act in 2000, use of electronic transactions has grown exponentially and e-commerce is firmly planted in modern culture.
While the use of electronic signatures and authentication of contracts and records is here to stay, the burden of proof as to the authenticity of such an electronic signature and record remains, and may very well become, a larger issue as computers are hacked and identities stolen. The burden of proof to establish the authenticity remains, and employers and businesses must establish systems to allow for secure procedures and relatively easy verification if authenticity becomes an issue in a matter.
If I or my colleagues at Sandberg Phoenix & von Gontard, P.C. can be of assistance to you in reviewing your protocols, verifying requirements to satisfy applicable federal and state laws or litigating a matter involving electronic signatures, please contact me at 314-446-4396 or dwhitlock@sandbergphoenix.com.