Commercial law encompasses a wide variety of legal topics, including commercial transactions, sales of goods and services, security agreements and security interests, pledges, letters of credit, financing and other related transactions, promissory notes, guaranties, franchise and distribution agreements, warranties, equipment leasing, equipment financing, and collections, to name just a few of the topics covered under the rubric "commercial law."
With a broad range of experience in commercial law transactions for small businesses and medium-sized businesses, we have assisted a variety of companies in many industries and fields including mobile marketing, packaging manufacturing, packaging distribution, real estate development, the machinery and tool industry, professional corporations, and many more service, manufacturing and distribution companies.
Some of the commercial law services available include:
Collections
Commercial Financing
Equipment Leases
Financing Agreements
Franchise Agreements
Guaranties
Letters of Credit
Pledge Agreements
Promissory Notes
Sales Contracts
Security Agreements
UCC Financing Statements
Vendor Agreements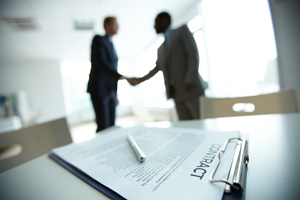 A recent case out of Illinois illustrates the danger of failing to keep track of deadlines, and expounds on the purpose of liquidated damages. The facts of the case are rather straightforward, but the results surely must have stung for one of the parties. A contract...
read more