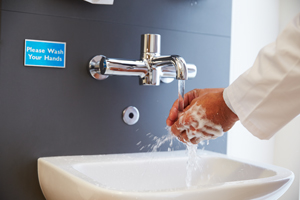 While we often focus on disasters such as tornadoes or fires, COVID-19 (commonly referred to as the coronavirus) is a new threat that could have a dramatic impact on your common interest community, whether a condominium, subdivision clubhouse or other amenity, if efforts to contain it are unsuccessful.
Common interest communities either elect to have a professional management in place or manage their own communities, albeit possibly with using contracted help for various matters, such as cleaning, managing parking facilities, or operating gyms and related amenities. In either situation, the association itself has a primary responsibility to direct the actions to be taken in any situation, even if those directions are carried out by others. With the concern that the coronavirus is causing on an ever expanding scope, some basic guidance might be warranted.
Liability of the Community Association
An initial concern could be that the association has an affirmative obligation to protect owners from exposure. This is incorrect, but it does not absolve the role of the association.
When an association undertakes a task or carries out an obligation, such as cleaning the common areas, the association cannot do so in a negligent manner. Accordingly, each association that has common hallways, elevators, a clubhouse or similar amenities should consider taking additional proactive measures including: (1) having cleaning done with increased frequency, (2) posting reminders from the Centers for Disease Control and Prevention (CDC) or local health department on hand washing and other precautionary steps that can be taken, (3) prohibiting use of amenities such as the community gym or increasing the duration of time between use and requiring cleaning, (4) installing hand sanitizer stations in convenient locations, and (5) planning for more extensive and thorough cleaning, including steps that may be taken if HVAC systems are shared between the units and common areas.
Disseminating Information
A particular focus should be on dissemination of information from the CDC to the residents and owners. Information is available online at the link below, including "What you need to know" and "What to do if you are sick" pamphlets. The Missouri Department of Health also has information available on their "COVID-19 Outbreak" page, which has additional information that may be posted and distributed. Only information from the CDC, the Missouri (or your home state's) Department of Health or local health departments should be relied upon and distributed.
Centers for Disease Control and Prevention: Coronavirus (COVID-19) Information

Missouri Department of Health & Senior Services: COVID-19 Outbreak Information
Employees
If your community has employees, the board and staff should review its disaster preparedness plan in anticipation of employees not being able to physically appear for work and accordingly be prepared to adjust work responsibilities and/or continued operations with no available employees and reduced ability to rely on volunteers.
Conclusion
The attorneys at Sandberg Phoenix have extensive experience representing community associations, subdivisions, condominiums, road and other associations. If we may be of service to you in guidance on specific matters or for general representation, please contact us to arrange a meeting. I may be contacted at [email protected] or 314-446-4967. Visit the e-LawLines website to review the entire library of articles relating to condominium and homeowners' associations.