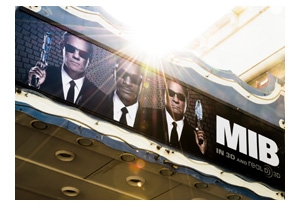 If only we could easily forget those things that we want to forget. Sort of like utilizing the neuralyzer Agent K (Tommy Lee Jones) and Agent J (Will Smith) used in "Men in Black" to erase memories. But we can't, and in fact, the law generally doesn't want you to.
Courts will, under the right set of facts, enforce either contractual (e.g., confidentiality agreement), statutory (Uniform Trade Secrets Act) or common law actions (court-made decisional law) to prevent confidential proprietary information from being disclosed. Generally, the situation is one where the employer obtained its (now) former employee's written agreement to not disclose or otherwise make use of such confidential information, but the former employer is faced with the actual use or threatened disclosure of such confidential information by the former employee. (Now, if the M∙I∙B neuralyzer only worked!)
Enforcing a confidentiality agreement based on the doctrine of inevitable disclosure has not been common, but a federal court in Chicago breathed new life into this otherwise dormant theory of enforcement. In PepsiCo, Inc. v. Redmond and The Quaker Oats Company, PepsiCo was faced with the situation in which one of its top employees, Redmond, the general manager of the entire California business unit, which at the time had annual sales in excess of $500 million, was lured away to work for its closest competitor.
In such a position, Redmond had access to national marketing and operational plans, including strategic plans to challenge Quaker and other market leaders in sport drinks. After hearing testimony, the federal district court sitting in Chicago found that Redmond's new job "posed a clear threat of misappropriation of trade secrets and confidential information," and thus Redmond could be enjoined from immediately working in his new position.
On appeal, the Seventh Circuit of the U.S. Court of Appeals, while noting that "trade secret law serves to protect 'standards of commercial morality,'" held that "a plaintiff may provide a claim of trade secret misappropriation by demonstrating that [a] defendant's new employment will inevitably lead him to rely on the plaintiff's [former employer's] trade secrets." In that particular case, the appellate court noted, as the trial court had held, "that unless Redmond possessed an uncanny ability to compartmentalize information, he would necessarily be making decisions about Gatorade and Snapple by relying on his knowledge of [PepsiCo] trade secrets."
In Missouri, while courts have not declined to acknowledge the doctrine in the abstract, there have been no reported cases where the application of such doctrine has been held to justify an injunction against a former employee. In a decision rendered five years after the Illinois Redmond case, the Western District of the Missouri Court of Appeals found that former regional directors of H & R Block, just days after attending their employer's national annual planning meeting, submitted their resignations and announced that they were going to Jackson Hewitt, Inc., H & R Block's leading competitor. At the annual meeting, three large binders were distributed to both of the former employees, some of which contained information that, the court held, constituted trade secrets. But the court also found that the former employees had not actually misappropriated those trade secrets by revealing them to Jackson Hewitt, nor was there a threatened misappropriation of such trade secrets.
In responding to H & R Block's argument that its former employees, while not purposely and consciously revealing its trade secrets, would nonetheless inevitably, albeit subconsciously, rely on and use the trade secrets, the Missouri Court of Appeals dismissed the argument and held that "exposure to trade secrets does not create an inference of inevitable disclosure, as would support preliminary injunction; rather employers must demonstrate inevitability exists with facts indicating that the nature of the secrets at issue and the nature of the employee's past and future work justify an inference that the employee cannot help but consider the information."
Every trade secret case turns on the particular facts underpinning it. While taking proactive steps to prohibit disclosure of confidentiality information is always recommended, there may, under proper scenarios, be grounds to enjoin the actual use or threatened disclosure of confidential information and trade secrets. Attention to your company's treatment of its confidential information, provisions in your company's employee handbook, and the scope of distribution of such confidential information all play a role in how a court will view your confidential information, whether it rises to a trade secret, and if an injunction will issue to prohibit the actual use or threatened disclosure of such trade secrets.
After all, the M∙I∙B neuralyzer only works in the movies.