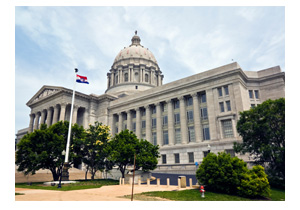 The Missouri Legislature passed 211 pieces of legislation in the 2014 session. Six of those were joint resolutions, which will appear on the August or November ballot. Twenty-one were concurrent resolutions, which express the will of the Legislature but do not change statutes. A total of 184 bills went to the governor's desk for his signature.
The governor vetoed 33 legislative bills, the most he has ever vetoed and the second most in state history. He also used his line-item veto power on all but two of the 15 appropriations (budget) bills. The governor allowed three bills to become law without his signature by taking no action. He signed the remaining 138 bills. The Legislature already took action and overrode one veto during the session.
We have highlighted the following issues because we thought they might be of interest to you:
Privacy
House Bill 1665 requires a person publishing an arrest-booking photograph on his or her Internet website to remove such photograph upon request by the individual whose photograph was published.
Condominium
House Bill 1218 specifies the order of preference of liens and encumbrances on a condominium unit entered into on or after Aug. 28, 2014. A lien for the amount of the common expense assessments based on the periodic budget adopted by the condominium association — which would have become due in the absence of acceleration during the six months immediately preceding the date of filing of a petition to enforce the association's lien or the date of sale by the holder of a mortgage or deed of trust — has limited priority over a mortgage or deed of trust on a unit. If an association forecloses its lien in a non-judicial manner under Chapter 443, RSMo, the association will not be entitled to the limited lien priority for the common expense assessments.
Estate Planning
Senate Bill 500 modifies provisions of law relating to qualified spousal trusts and no-contest clauses and mediation provisions in wills and trusts. The bill confirms that property held by husband and wife, when transferred to a qualified spousal trust, shall be treated as tenants by the entirety property. This act further provides that when an irrevocable trust contains a no-contest clause, as defined in the act, then an interested person may still file a petition with a court for a ruling on whether a particular claim for relief would trigger forfeiture.
Unemployment Benefits
Senate Bill 510 redefines "misconduct" and "good cause" for the purposes of disqualification from unemployment benefits. Currently, misconduct includes a wanton or willful disregard of the employer's interest and a disregard of standards of behavior the employer has the right to expect. The act changes that standard to a knowing disregard of that interest and a knowing violation of the standards the employer expects. Currently, an intentional and substantial disregard of the employer's interest or of the employer's duties and obligations to the employer also qualifies as misconduct. The act changes that standard to a knowing disregard of such interests, duties and obligations. Currently, a deliberate violation of the employer's rules constitutes misconduct. Under the act, a violation of an employer's rule is misconduct unless the employee demonstrates that he or she did not know and could not reasonably know the requirement, that the rule is unlawful, or that the rule is not fairly or consistently enforced.
Parental Fitness
Senate Bill 530 allows for alcohol or drug use or related convictions to be considered in determining parental fitness in termination of parental rights proceedings.
Chemotherapy Costs
Senate Bill 668 requires health benefit plans to establish equal out-of-pocket costs for covered oral and intravenously administered chemotherapy medications.
Patent Infringement
Senate Bill 706 prohibits bad-faith assertions of patent infringement. This act creates a seven-factor test that a court shall consider when determining if a person has made a bad-faith assertion of patent infringement. Additionally, this act creates a seven-factor test that the court shall consider as evidence that a person has not made a bad-faith assertion of patent infringement.
Tax Forms
House Bill 1081 establishes the Paperless Documents and Forms Act that authorizes the Department of Revenue to use technology to make filing certain forms and sending certain notifications more efficient. In its main provisions, the bill requires, beginning no later than Jan. 1, 2015, the department to develop and implement, by Jan. 1, 2021, a method by which all documents and forms provided to the public and any other documents required by the department relating to taxes and fees are available in an electronic format online and are capable of electronic submission to the department, except those that require a notary or authorization by a third party.
Landlord-Tenant
House Bill 1410 removes landlord-tenant actions and forcible entry and detainer actions from the list of actions in which an aggrieved party by a judgment in a civil case must have the right of a trial de novo.
Financing Statements — Fraudulent
House Bill 1412 specifies that it shall be a crime to intentionally file a fraudulent financing statement or any financing statement with the Secretary of State with the intent to harass or defraud any other person.
Tax Increment Financing
House Bill 1504 changes the laws regarding tax increment financing. (1) Specifies that a person commits a class D felony if he or she knowingly or intentionally files, attempts to file, or records any document related to real property with a recorder of deeds or a financing statement with the Secretary of State with the intent that it be used to harass or defraud any other person or that is materially false or fraudulent. The court, upon conviction, may order restitution if a person is convicted of a violation of these provisions.
These brief descriptions of some of the bills approved by the Missouri Legislature are intended to bring your attention to the subject matter contained in them and the changes in the respective statutes. As legislative bills usually contain many different changes to a statute, it is highly recommended that, if the subject is of interest, the reader review the entire bill.