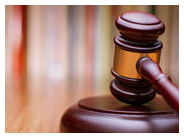 A Missouri federal court has entered an injunction stopping a former national sales director from taking a position with a competitor company in the pharmacy services industry, finding that the disclosure of confidential information such as customer information and business strategy would result in irreparable harm to the former employer.
In this case, the national sales director worked primarily in the niche field of in fertility medications.  The court found that he was privy to weekly, monthly and annual volume reports, strategic planning reports, and participated in pricing committee conference calls where strategy was discussed.  Further, the individual's 15+ years of experience provided him unique opportunities to build relationships with key decision makers on behalf of his former employer's customers and potential customers.
The national sales director had sought the consent of his former employer to take an executive position with a company also heavily involved in the marketing and sale of infertility medications.  When the company refused to release the direction for his non-compete, he went to go work for the competitor.
The competing company denied that the sales director would be in a position of sales and marketing.  Moreover, they had reached an agreement that he would not disclose any confidential information from his former employer.
However, the court found that the threat of irreparable harm too strong and ruled that the national sales director could not work for his "new" employer for a one-year period.
Legal finding of trade secret protection
In so holding, the Court ruled that the former director had created contributed to the creation of, and been privy to a host of confidential information and trade secrets, including: the names of and specific contacts at the former employer's customers and potential customers; all contracts between that entity and its customers, along with the terms of those contracts; customer feedback and opinions (positive and negative) with respect to its products and services, as well as their contract history and status; marketing plans, including new products in development; and the pricing and profit margins of products.