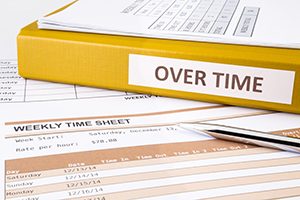 A recent federal court ruling demonstrates the important legal reality that judges will look beyond an employee's title and, instead, examine the actual duties performed in determining whether there are overtime pay obligations under the Fair Labor Standards Act.
Under the FLSA, the "executive exemption" from overtime pay is for an employee whose primary duty is management of the enterprise in which the employee is employed.
In the case, the employee underwent training and received the title of Assistant Store Manager at a retail store which sold building products, including lumber, plywood, roofing and concrete products.
Yet, the court looked beyond the given job title and examined the actual facts of the workplace to assess whether the executive exemption applied to this individual.
The Court found that the employee spent the vast majority of his time performing manual tasks that were not management-related, such as cleaning, stocking, loading trucks, and helping customers.
Though the Court recognized he performed some managerial tasks, such as administering routine drug tests, arming and disarming the store's alarm, and setting up cash registers, it concluded these were minor, perfunctory tasks.  Finally, the Court noted that the employee did not perform quintessentially managerial duties like scheduling, maintaining and ordering inventory, or directing and apportioning employees' work, and he exercised little meaningful discretion.
Under the FLSA, courts must determine an employee's primary duty "based on all the facts in a particular case, with the major emphasis on the character of the employee's job as a whole."